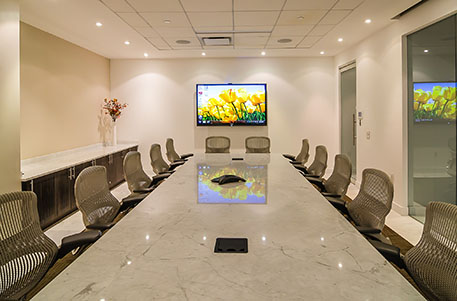 There is nothing more exciting than the prospect of a small business growing into a competitive and sprawling corporation, especially for the small business owner. But as a small business owner, it doesn't take long for this dream of corporate expansion to begin taking its toll. Growing a business into a larger corporate enterprise takes a lot of logistics, planning, and financial commitment. Your office space is a big deal for your business. It is where all of the major decisions regarding your company will take place, from investments to scheduling, from new products to new partnerships. To make your office place a true home away from home is the goal for every growing company, but that takes a lot of time, dedication and financial investment. When looking for an office space in New York, you need to make sure you are looking for the right benefits. These include:
Enough workspace for your entire staff to work comfortably
Meeting and conference rooms that can accommodate small or large groups
A convenient and practical address, but ideally one that also shows the correct level of professionality and security
For many small businesses, the choice comes down to doing what is best for the company in terms of staffing and investments, and finding that home away from home where all the business can take place in a practical yet comfortable manner. Virtual and temporary office spaces are a great resource for small and growing businesses. This provides a great way for a business to find a balance between the exorbitant cost of an additional office space and the many financial commitments that come with that, and the ability to invest those well-needed funds into the core of the business. ­ Helix Workspace offers state of the art offices that are designed with all modern amenities in mind, including meeting and conference areas, concierge services, and ideal locations that are both impressive and convenient. Many growing businesses take advantage of virtual workspaces because:
They need an established office space quickly
They need to grow their office
They are ready to expand business to new cities or even internationally, but aren't ready for full time staffing
With so much business taking place on the go and virtually, it only makes sense to put your business investments where they will do the most good—into your actual business. Working with Helix workspace can help your company grow by managing your work space in a budget friendly yet impressive manner. For more information, contact us.